Welcome to Ford40.com (or Ford 4L or Ford 4.0, whatever you want to call it.) I've been driving a 4.0 V6 OHV equipped Ranger for 10 years now and am very surprised at how little info there is on the net for this engine/vehicle combination. So I put up this site to let others know what I've learned. In those 10 years, I've also made some mods to my Ranger that would be good for any Ranger, Explorer or SportTrac with the 4L V6 engine, and I've included them as well.
Common problems and solutions:





Ford40.com
Exhaust system for Ford 4.0 V6
First thing we had to do is replace the factory catalytic converter with a performance magnaflow catalytic converter. Not only was my catalytic converter old (84K miles) but I'm sure it didn't flow as well as the Magnaflow. But getting rid of the Ford factory converters (it has two) required us to make an adaptor to go to the factory Ford flange to the Magnaflow. To do this, we cut off the Ford cat about 1" behind the flange, and then took a piece of 3" pipe about 12" long, flared it a little on one end, and then beat it into an oval. A little more messaging with the air hammer and it was a nice fit and ready to weld. Not only did this solve the problem of adapting to the factory Ford flange, but it gave me a 3" x 12" collector extension, which I believe helped my low end torque a little bit. (Sound files at the bottom of this page.)

After the Magnaflow catalytic converter, we ran about 3' of 2.5" pipe into a Flowmaster 3 chamber muffler. From there it's more 2.5" pipe up and over the axle and out the back. The pix below show the completed job.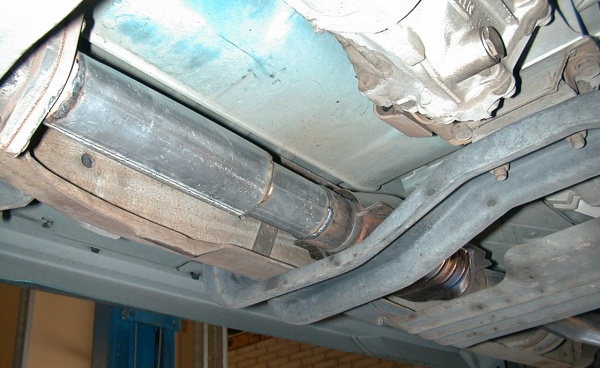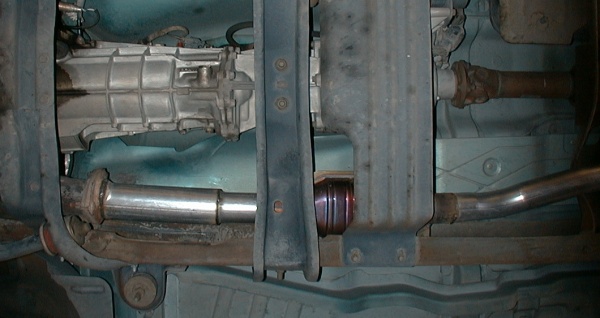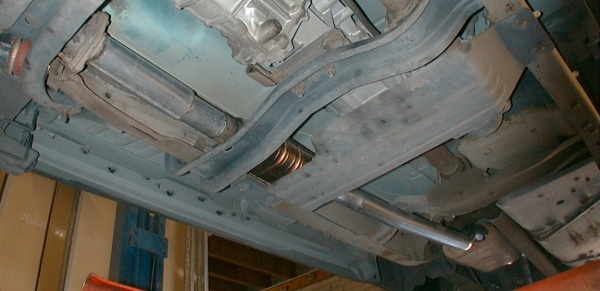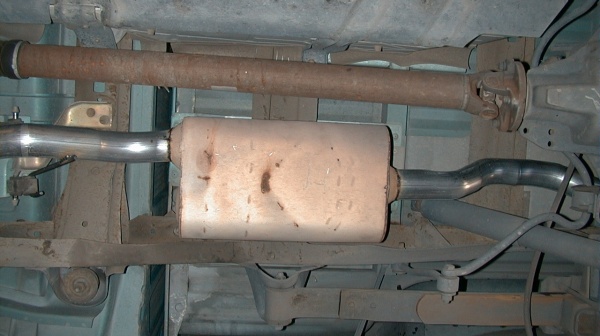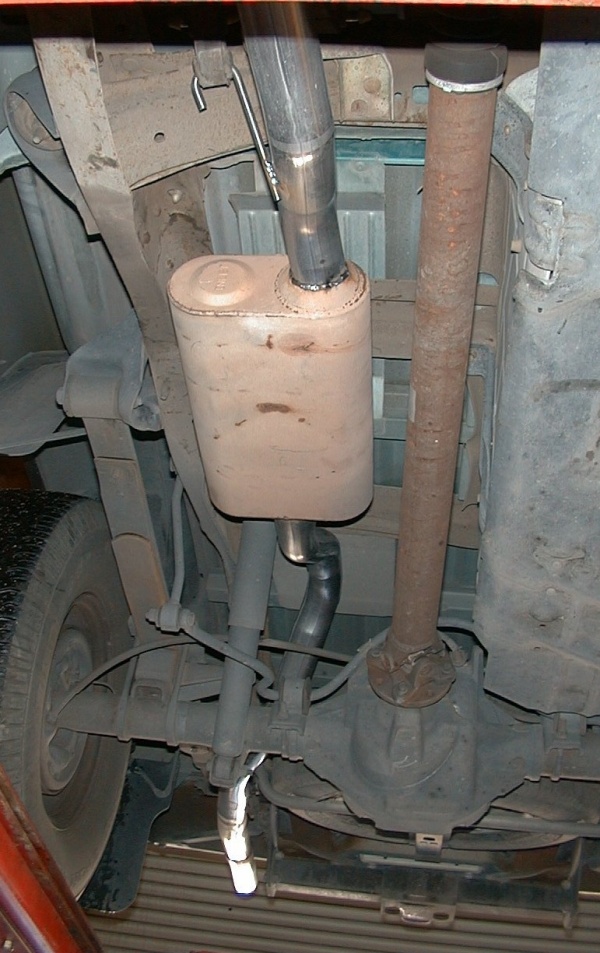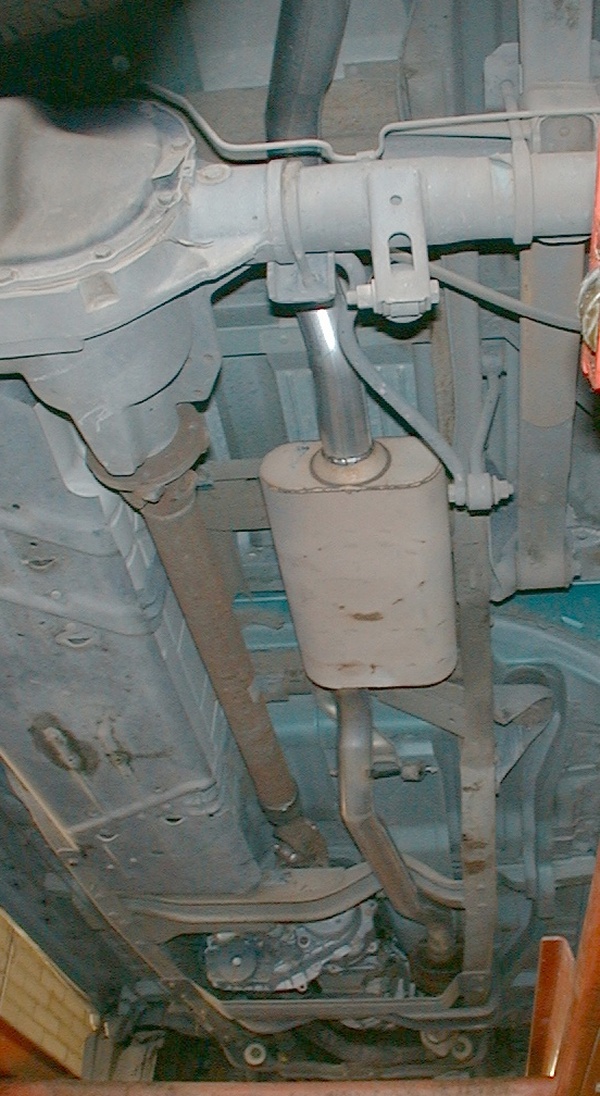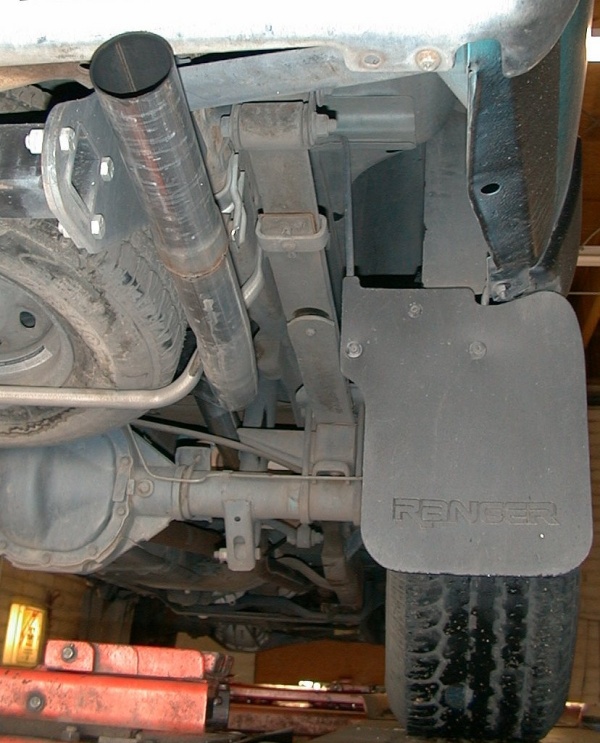 With this setup, the truck sounds exactly like a 5.0 Mustang with Flowmasters. (Sound files below) I've not decided if that is a good thing or a bad thing yet. :-) For now, it's fun. Using the same Gtech, I estimate this modification is worth about 6hp on my truck. I say estimate because I could not test exactly "back to back" due to fact that it was done in steps. This is for the difference between the factory cat, the factory muffler and the factory tailpipes, compared to the Magnaflow cat, Flowmaster muffler and 2.5" tailpipes. If you add in the headers, it's another 10 hp or so. So total for the headers and exhaust is probably about 16 hp. All numbers being real, rear wheel hp changes. Also, both the headers and new exhaust improved the low end (off idle) torque enough to notice immediately the first time I let out the clutch.

All of the following sound clips are with: Edlebrock headers, 3" collector, MagnaCat, 3 chamber Flowmaster, 2.5" pipe, no tip. (Exactly as pictured above. Files are MP3 format. You'll have to right click on each one and "Save As" to your computer and listen to them with an MP3 player.)